Our integrated team of experts works across urban, regional, social, economic and transport planning and traffic engineering.
Rosanna Level Crossing Removal
Traffic
City of Banyule
Lower Plenty Road, Rosanna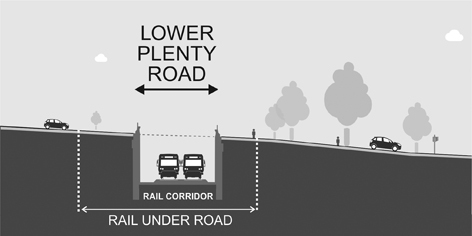 Client

Hansen Partnership

Council

City of Banyule

Location

Lower Plenty Road, Rosanna

Contact

Russell Symons
Development Summary
The Level Crossing Removal Authority [LXRA] is proposing the upgrading and duplication of the Hurstbridge railway line, north of Heidelberg. This involves the removal of the Lower Plenty Road level crossing in the Rosanna Shopping Centre.
Banyule Council appointed Hansen Partnership to prepare an Urban Design Framework for the project, to ensure that it achieves the optimum result for the amenity, safety and convenience for the local business and residential community. Hansen Partnership engaged ratio: to provide inputs relating to pedestrians, cyclists, cars, railway passengers, buses and commercial vehicle operations.
Ratio's proposals included revised on-street carpark layouts, traffic management for street intersections, bike paths and bus/rail interchange elements.
Cnr, Centre & Haughton Roads
Clayton South
Client

Cedar Woods P/L

Council

Kingston City Council

Location

Cnr. Centre & Haughton Roads Clayton

Contact

William Bromhead
Development Summary
ratio: have been working with Cedar Woods Pty Ltd, DKO Architects and MDG Landscape Architects on Jackson Green, a significant infill redevelopment site in Clayton South. The 6.5 HA site was previously occupied by Sigma Pharmaceuticals and will accommodate up to 350 dwellings at completion.
Project Characteristics
The site layout was heavily influenced by the projects namesake, a large Port Jackson Fig tree which sits close the Haughton Road frontage. This tree will be retained in the centre of an attractive and functional open space area which welcomes pedestrians and cyclists into the site.
The scale of this project necessitated early engagement with a number of Council departments in order to determine key functional aspects such as the internal road layout, drainage and pedestrian links to surrounding streets. The interface with existing residential properties along McMillan Street required careful consideration of building setbacks and massing to ensure that contemporary design of the townhouses would sit comfortably with the existing traditional building stock.
A collaborative approach with Council led to agreement on the overall concept for the site in mid 2015, with the first planning permit for 85 townhouses in the eastern portion of the site following shortly after. A planning permit for 'Wattle', a four storey apartment building fronting Haughton Road, was secured in mid 2016, with a planning application currently under consideration for a further 66 townhouses within the western portion of the site. Civil construction has now commenced on site, with further applications to be made for apartment buildings fronting Centre, Haughton and Main Roads.
ratio: is proud to work with Cedar Woods to promote urban consolidation and regeneration in Clayton South.
9 Prospect Street
Planning
Box Hill
Client

Box Hill Investments (Vic)

Council

Whitehorse City Council

Location

9 Prospect Street, Box Hill

Contact

Travis Finlayson
Development Summary
ratio: was successful in obtaining planning approval for a 25 storey mixed-use development comprising 187 dwellings and approximately 3,000 square metres of office floor space designed by Artisan Architects at 9 Prospect Street Box Hill. The 1,475 square metre site is located at the southern edge within the Major Development Precinct of the Box Hill Central Activities District.
The proposed development will make an impressive architectural contribution to the activity centre as the tallest building in Prospect Street with an impressive and varied curved and angular tower form.
ratio: in conjunction with Box Hill Investments (Vic) and Artisan Architects, worked collaboratively with Whitehorse City Council to obtain a planning permit for a development that will positively contribute to the Box Hill Central Activities District. The support from Council officers and early consultation with nearby interested parties avoided the need for the matter to proceed to VCAT.
TLC Integrated Aged Care
Planning
Surf Coast Highway
Armstrong Creek
Architect

Baldasso Cortese Architects

Council

Greater Geelong Council

Location

Armstrong Creek

Contact

Will Bromhead
ratio: have recently obtained planning approval for a state of the art TLC Aged Care facility in Armstrong Creek, an urban growth area within the City of Greater Geelong.
The site is located on Surf Coast Highway within the Armstrong Creek Precinct Structure Plan Area, and abuts Stewarts Road which forms a key pedestrian and cycle link through Armstrong Creek known as the Stewarts Road Greenway.
The two storey facility, designed by Baldasso Cortese Architects, will accommodate 180 beds, pharmacy, café, GP clinic, physiotherapy, hydrotherapy pool, mobile radiology, pathology, tele-health and other allied health services for both residents and patients from the local community. This integrated design is key to TLC Aged Care's innovative model which focusses on a holistic approach to aged care in a modern and supportive environment.
ratio: worked closely with Greater Geelong Council, VicRoads and surrounding developers to ensure that the design of the facility sat comfortably within the emerging neighbourhood, and integrated with the Stewarts Road Greenway. This consultative approach resulted in the granting of a planning permit by Council in May 2016.
ratio: are excited to have been a part of this project which will deliver world class aged care services.